This was quite a day out as I walked an 8-mile upstream section of the river in the middle of its course. Appreciating the scale of a river by walking its length promotes a unique feeling of being in a landscape. However, the overriding feeling was one of sadness. It may sound odd but I felt sad for the river being so ignored and polluted that I could almost hear it choking on chemicals and spitting plastic.
The mud I collected at 1 mile intervals varied in colour and I can't imagine what it contains. In fact, it was more silt with very little substance, sometimes it was sloppy and easy to gather but elsewhere the bottom had been scoured clean by the recent floods and I had to scrape hard to get any at all. However, there were places where a glimpse of natural magic remained. The most enticing was where the river turned back on itself so sharply that it had created a spit of land 6 feet wide between both strands of the river.
At each collection point, I recorded a video and this time I twisted together DH Lawrence and highbrow wine tasting notes. The absurdity of the combination is entertaining but I don't think it works as well as the previous recording of Lawrence and HS2 documentation. Previously, the content of both flowed together seamlessly which seemed to create more irony and it was all shot at one location so was more of a continuous story. This set of clips is not political, other than crudely stating that a post-industrial landscape is as far as one could get from a wine-growing area. These videos are daring us to dream of a bountiful future for the river valley.
The samples I collected were positioned against where they were collected to give context to the changing nature of the river. The river did change in nature, the colour, speed and sound of the river were different at each location. Of more interest is how I felt at each of the locations as each varied in its remoteness, pollution and ambience. Is there an overriding feeling I can pull together from all these locations, and how would I summarise the river in an artistic form from all these experiences?
The collected samples looked all the same when collected but I got what I hoped for, which were colour differences between them when all together. From black, dark brown, through chocolate to pale brown. So we have a palette of colour but is there sufficient variation to take further?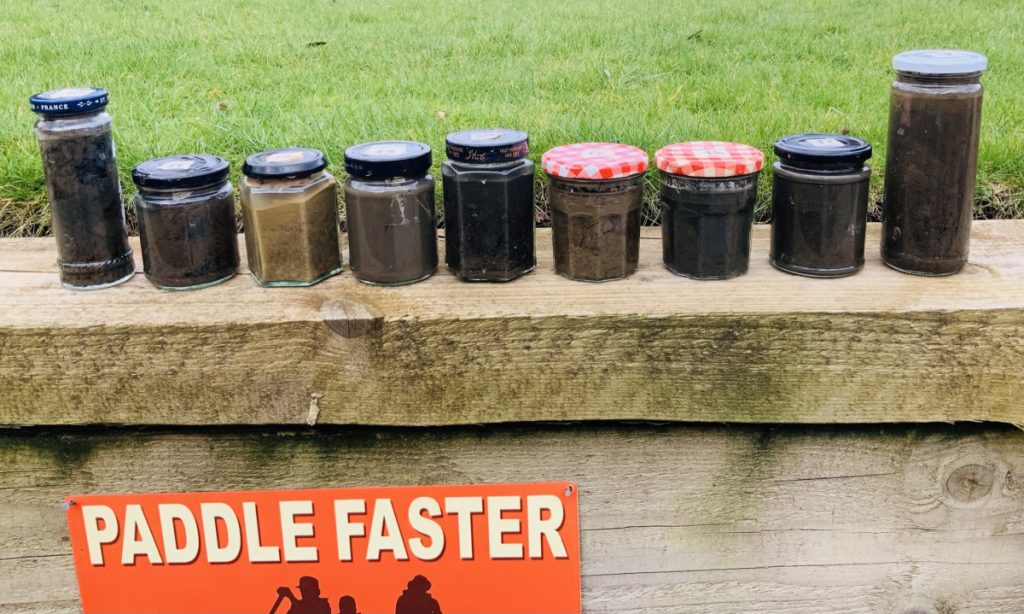 Summary & next steps
I have traveled only a third of the river so I plan two more trips to complete the up and downstream lengths. My feeling so far is that that I need to strip out some of the complexity of these experiences as there is too much to take in and certainly too much to put across in a piece of work. The collection of mud has given me a purpose to complete the journey but I don't feel inspired that this has legs as part of an outcome. I've looked at several artists who use mud in their work and even though I enjoy their work I don't think it is holistic enough in my case. I am really wanting to champion the scale of the river as a geographical feature and the political angle is always nagging at me so I need to follow that line a little more.
The video work is more appealing but I'll consider whether this could be combined as part of an installation. I've avoided video in the past as I've been concerned about audience engagement but I will take the time to investigate video artists to better understand the techniques and skills required to create quality work.